One Day in Haarlem: All Things To Do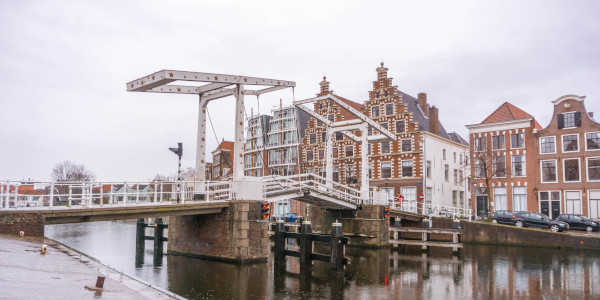 Day trip from Amsterdam
The Netherlands has more to offer than Amsterdam. That's why we're showing you the beautiful city of Haarlem. Haarlem is just a 20-minute train ride away from Amsterdam, which makes it the perfect day trip. Following Amsterdam, it's the second largest city in the province of North-Holland. Haarlem knows a rich history and has plenty of sightseeing spots to offer. We visited Haarlem on a rainy day in December and are sharing our one-day itinerary with you in this post!
Please note that precautions are currently taken to prevent the spread of the coronavirus. This means that some locations have limited opening hours and/or limited capacity and it's often required to buy tickets in advance. We don't advise anyone to travel when it's not safe. Always follow instructions by authorities.
Molen De Adriaan
Molen De Adriaan is a typically Dutch windmill located along the Spaarne river withs a rich history. The windmill was built in 1779 and grinded different products throughout the years, such as tobacco, oak bark, shells, grain and more. In 1930, the windmill got severely damaged during a storm and in 1932, the mill burnt down completely. The inhabitants of Haarlem wanted the windmill back, but due to poverty in the 1930s and World War II, there was not enough money. After many plans for rebuilding the mill, construction finally started in 1999. In 2002, constructions of Molen De Adriaan were completed. Nowadays, the windmill houses a museum showing the history of this windmill, the history of windmills in general and the grinding techniques used in Dutch windmills. The windmill operates when the weather is suitable.
The windmill is open to visitors. Every visit includes a guided tour. Tours take place every 30 minutes.
Entrance fee
Adults: €5 (including guided tour)
Opening hours
March-October
Monday-Friday: 13.00-17.00
Saturday & Sunday: 10.30-17.00
November-February
Monday & Friday: 13.00-16.30
Saturday & Sunday: 10.30-16.30
Tuesday-Thursday closed.
Currently, you have to buy online tickets in advance for a specific time slot. Check this website for current opening hours and to buy your ticket online.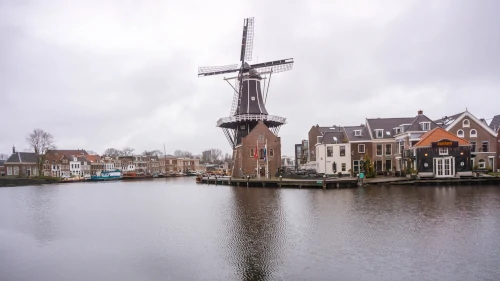 Amsterdamse Poort
The Amsterdamse Poort (Gate of Amsterdam) is often mistakenly thought to be located in Amsterdam, but it's actually in Haarlem. The Amsterdamse Poort used to be part of the city walls of Haarlem. Back in the day, there were seven city gates and this is the last remaining one. The Amsterdamse Poort was constructed around 1425 and it looks a bit like a castle with its octagonal towers. It's a beautiful gate worth checking out.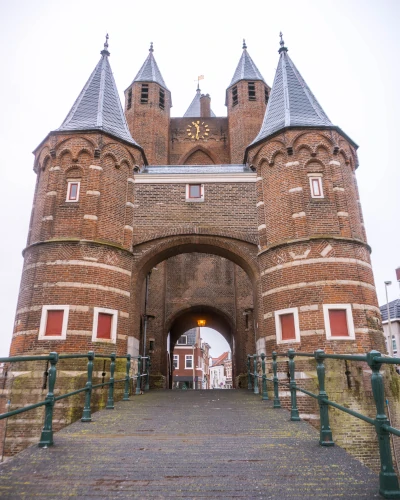 Gravestenenbrug
The Gravestenenbrug is a drawbridge across the Spaarne river. The current bridge is built in 1950 and replaced an older bridge that had existed for at least 600 years, possibly even 800 years. We loved taking a photo here with the historical buildings in the background. Walking along the Spaarne in this area is very lovely and we can recommend doing so.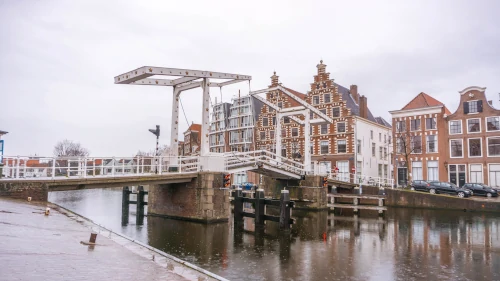 Teylers Museum
Teylers Museum is located along the Spaarne river and is known as the oldest museum in the Netherlands. The museum is established in 1778 and houses a collection of natural history, science and art. The museum is named after Pieter Teyler van der Hulst, a wealthy cloth merchant, silk manufacturer and banker. He left his legacy of Renaissance art and science materials to the Teyler Foundation, which aimed the advancement of art and science. This was the start of the museum. Among the collection you can find machines that generate electricity, fossils, historical books, coins and drawings by Rembrandt, Michelangelo, Raphael and Goltzius. We didn't visit the Teylers Museum but wanted to include it in this guide as it's a must visit in Haarlem if you're into museums.
Entrance fee
Adult: €14
Opening hours
Tuesday-Friday: 10.00-17.00
Saturday, Sunday & Holidays: 11.00-17.00
Closed on Mondays.
Currently, you have to buy online tickets in advance for a specific time slot. Check this website for current opening hours and to buy your ticket online.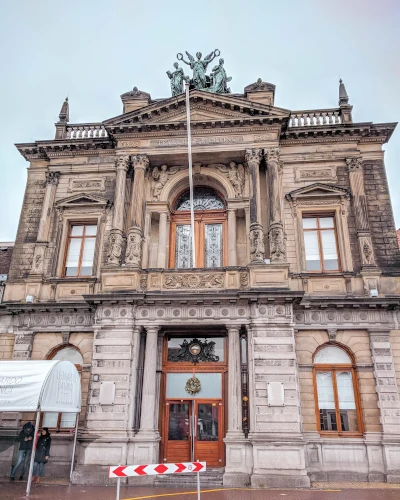 Melkbrug
The Melkbrug is a swinging bridge across the Spaarne. The bridge was constructed in 1887 and features elements of the neo-renaissance. Swinging bridges are always special to watch in motion, but weren't lucky to witness it this time. We enjoyed the view from the bridge over the river, which was great too!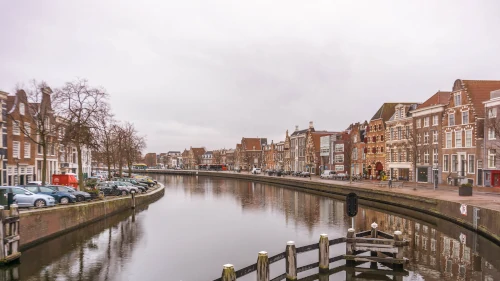 Kathedrale Basiliek Sint Bavo
Kathedrale Basiliek Sint Bavo is a huge cathedral just outside of the city center in Haarlem and the architecture of the cathedral completely blew us away. Constructions of this cathedral took place from 1895 until 1930 and the cathedral is built in eclectic and reo-renaissance style. It's possible to visit the cathedral and climb the towers. The cathedral houses art from over 60 artists and there's a museum featuring treasures of art, including Louis Napoleon's silverware, sculptures and paintings. The cathedral also has four organs, one of which even has organ pipes 9,2m tall.
Despite the fact that the cathedral offers lots to see, we didn't visit the cathedral ourselves. We admired the beauty from the outside. We were especially amazed by the back of the cathedral. From the back, we felt that the cathedral looked somewhat similar to Russian and Eastern European churches. We found a perfect photo spot from across the Leidsevaart canal.
Entrance fees
Cathedral: €4 (adult)
Cathedral + tower: €6
Opening hours
Monday-Saturday: 10.30-17.00
Sunday: 12.00-17.00
Currently, you have to buy online tickets in advance for a specific time slot. Check this website for current opening hours and to buy your ticket online.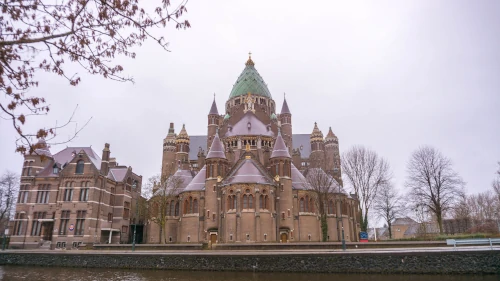 Grote of Sint-Bavokerk
The Grote of Sint-Bavokerk is a late medieval church in the middle of the city center. The church is constructed between 1370 and 1520 in gothic style. It's one of the largest churches in the Netherlands. Features of the church include the wooden arch, the Müller organ, the 400 gravestones on the floor and lots of stained glass windows. Visiting the church is possible, but we didn't do so, haha.
Entrance fees
General admission: €2,50
Guided tour: €6
Guided tours take place every Saturday at 14.00.
Opening hours
Monday-Saturday: 10.00-17.00
Check this website for current opening hours and prices.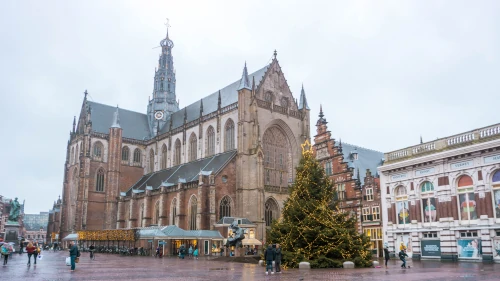 Shopping
The Grote of Sint-Bavokerk is actually located in the center of the shopping area. Haarlem is a lovely city to do some shopping. There's a wide variety of stores and the shopping area is not too big. If you're done sightseeing, it's a good idea to spend your last hours of the day shopping.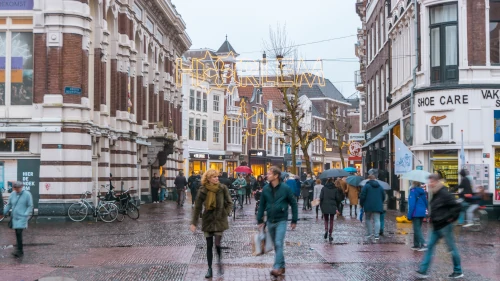 How to get to Haarlem
By train
Haarlem is just a 20-minute train ride from Amsterdam, which makes it a perfect day trip. Trains from Amsterdam to Haarlem leave almost every 5 minutes, so the connection is very good. Haarlem is also well-connected to other cities in the Netherlands such as Rotterdam and the Hague. Getting to Haarlem from Rotterdam takes a little over an hour by train and from The Hague it's 35 minutes. Trains leave frequently.
By car
It's around a 40-minute drive from Amsterdam, but it's always hard to find a parking spot in cities so we'd recommend going by train. In this case, the train is also twice as fast as traveling by car. From Rotterdam, it's around an hour by car and from The Hague it's around 50 minutes.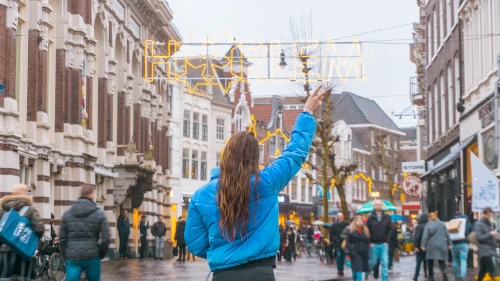 We hope we've inspired you to visit the historic city of Haarlem during your stay in the Netherlands. Have you been to the Netherlands or is it on your bucket list? Let us know in the comments below!
Be sure to check out:
One Day in Leiden: All Things To Do
10 Amazing Nature Places to Visit in the Netherlands
A Unique One-Day Itinerary in Amsterdam
Virtual Tour of the Tulip Fields in the Netherlands