The Best Christmas Photo Spots in Amsterdam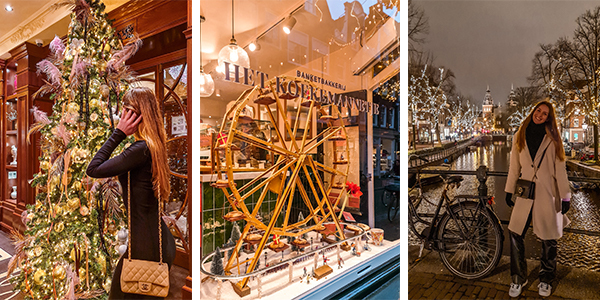 Whether you're planning on spicing up your Instagram feed with Christmas photos or you're looking for that perfect backdrop for this year's DIY Christmas cards, we've got you covered. Amsterdam isn't the most outgoing city with Christmas decorations (Dutch cities simply aren't like that), but you can still find plenty of places that make for great Christmas photos in December. In this post, we're sharing the best Christmas photo spots in Amsterdam, including links to the exact locations!
Ice*Amsterdam
During the holiday season, we Dutchies love to put up an ice skating rink in every city in the Netherlands. The ice rink in Amsterdam is one of the most beautiful ones. Surrounded by Christmas trees and with the Rijksmuseum as a backdrop, it feels like you're skating on the frozen canals. You can even skate underneath a replica of the famous "Magere Brug". When in Amsterdam in winter, it's a must to go ice skating at Ice*Amsterdam. If you don't like ice skating, you can get up the Magere Brug replica for free, which is a great photo spot as well.
Opening times in 2022-2023:
November 12th 2022 - February 5th 2023
Sunday - Thursday: 09:00-22:00
Friday & Saturday: 09:00-23:00
Ticket price: €7,50
Ticket + ice skate rental: €14,50
You can buy tickets at the entrance or in advance through their website.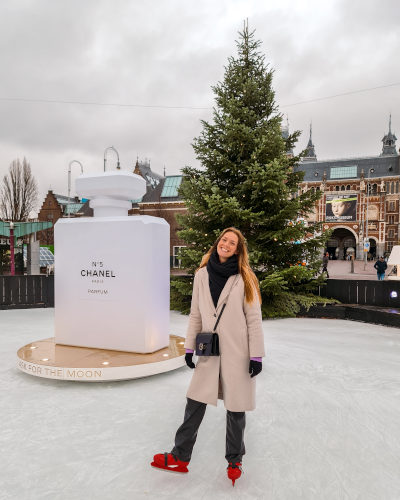 Read more:
The Prettiest Places for Ice Skating in the Netherlands
Spiegelgracht
The view from the Spiegelgracht bridge (Brug 87) is beautiful all year round, but in winter it's even more so. Every winter, the trees along the Spiegelgracht light up. This looks perfect in combination with the canal houses and the Rijksmuseum in the background. Because of the lights, the best time to visit is when it's (getting) dark.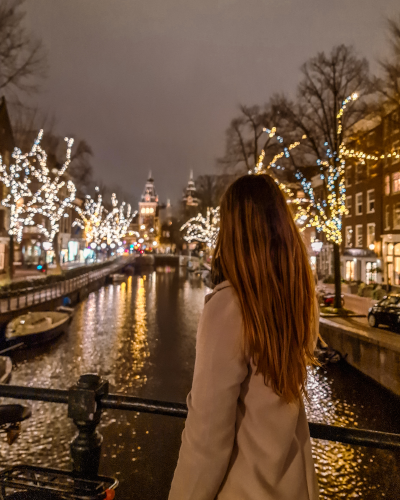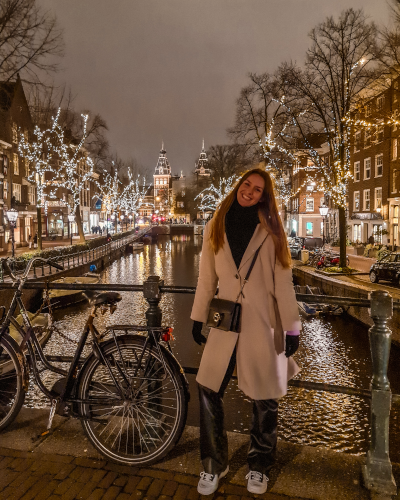 Keizersgracht 460
At this spot, the Keizersgracht meets the Leidsegracht. Because of that, there are several bridges in the area. Our favorite viewpoint is from Keizersgracht 460, but we'd recommend walking around the area to see other perspectives, as there are plenty of pretty ones. What's great about this place is that the bridges here have lights (not all of the bridges in Amsterdam do). The illuminated bridges and canal houses are simply the perfect combination. It's best to visit this spot when it's just getting dark and the lights are on, which is around an hour before the sun sets.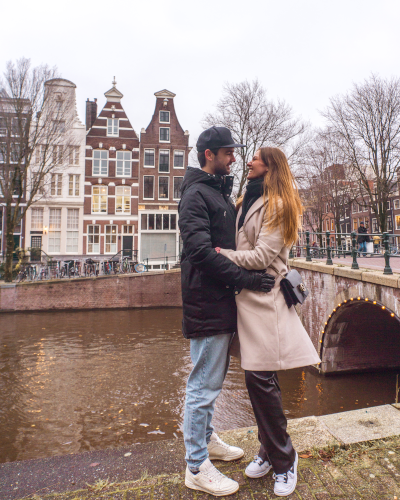 Het Koekemannetje
The cookie store Het Koekemannetje always puts up seasonal decorations. The Christmas decorations in the holiday season don't disappoint. When snapping a photo here, don't forget to try their cookies. They're so good. We always bring some cookies home from them every time we're in Amsterdam.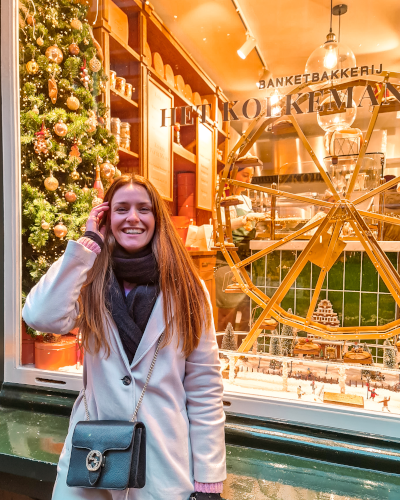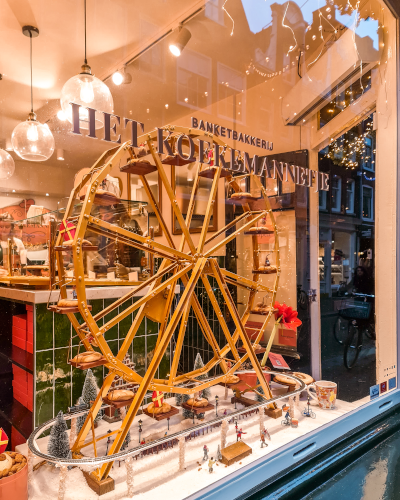 Hotel Estherea
The decorations in Hotel Estherea will take your breath away. Every year, their Christmas tree is beautifully decorated and fits so well with the interior of the hotel. There's also a gorgeous chandelier which looks even better when the Christmas decorations are up. Staying at Hotel Estherea during the holiday season is a great idea!
Click here to book a room in Hotel Estherea.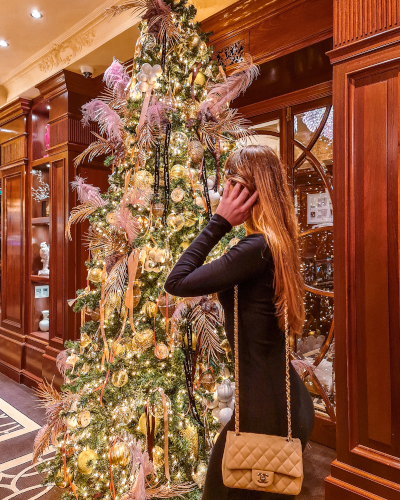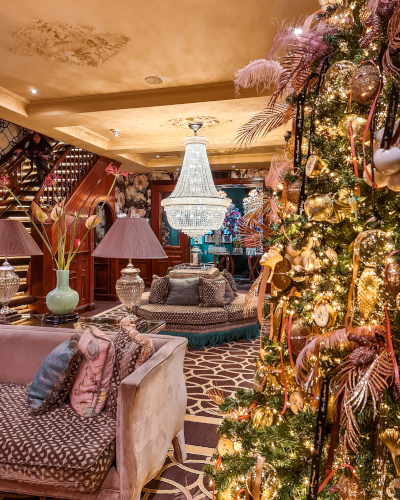 Le Petit Deli Storefront
Grab a coffee and have a drink outside in front of the pretty decorated storefront of Le Petit Deli. This is, of course, when it doesn't rain. In case of rain, we'd recommend sipping your coffee inside. Don't forget to order (at least) one of their pastries. We had a raspberry tartelette and it was so good!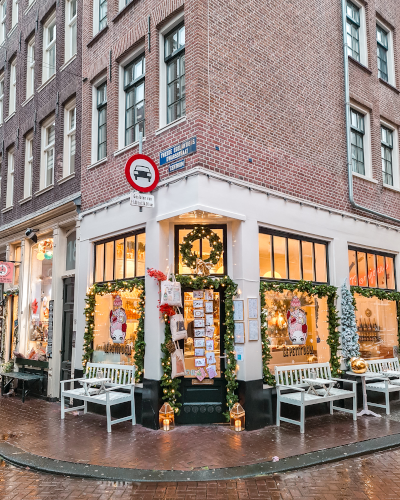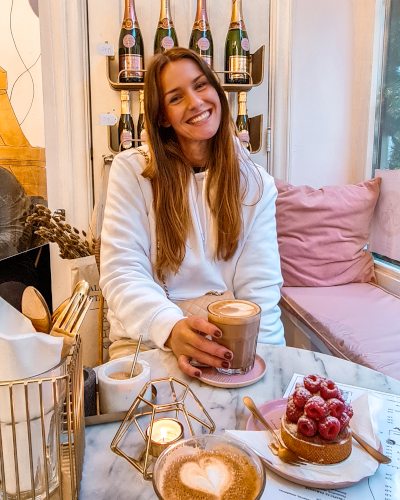 Magna Plaza
Every year, there's a huge floating Christmas tree in the middle of the shopping mall Magna Plaza. Head inside and go up a few floors for the best view of the tree. For shopping, Magna Plaza isn't a great option, but for Christmas decorations it is!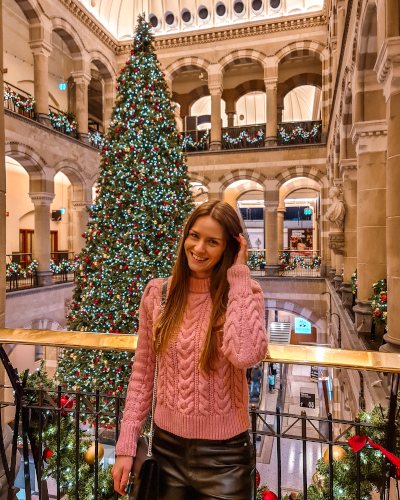 We hope you're already getting excited for this year's Christmas season. Will you be visiting Amsterdam during the holiday season? Let us know in the comments below!
Be sure to check out:
A Complete Sightseeing Guide of Rotterdam
Visiting Kinderdijk in Holland - Everything You Need to Know