The Prettiest Places for Ice Skating in the Netherlands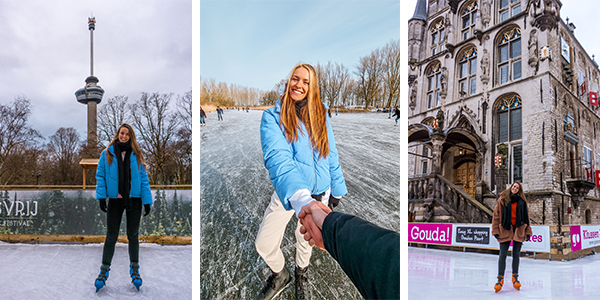 Ice skating is a huge part of Dutch culture. Every winter, Dutchies get the so-called "schaatskoorts" (ice skating fever) when temperatures are about to drop below zero degrees Celsius. Besides ice skating on natural ice, there are also plenty of (outdoor) ice skating rinks around the country. In this blog post, we're sharing the prettiest ice skating rinks and places for natural ice skating, because ice skating in pretty places is even more fun!
The prettiest outdoor ice skating rinks
Ice*Amsterdam in Amsterdam
Probably the most famous outdoor ice skating rink in the Netherlands is Ice*Amsterdam. The rink is located at Museumplein and it's absolutely a must visit if you're in Amsterdam during the winter. The rink looks magical with a small version of the "Magere Brug" (Skinny Bridge) which you can skate underneath. This ice rink is also worth a visit if you don't want to skate. It's possible to walk on the faux Magere Brug without a ticket and it's the perfect winter photo spot.
Opening times in 2021-2022:
November 13th 2021 - January 30th 2022
Daily: 10.00-20.00
Ticket price: €6
Ticket + ice skate rental: €12,50
You can buy tickets at the entrance or in advance through their website.
Goudse IJsbaan in Gouda
The ice skating rink in Gouda is located at the market square. What makes this rink unique is that it surrounds the beautiful City Hall building. The City Hall building is definitely the most beautiful building in Gouda and that makes it even more fun to ice skate there. It's obviously a perfect spot for photos too!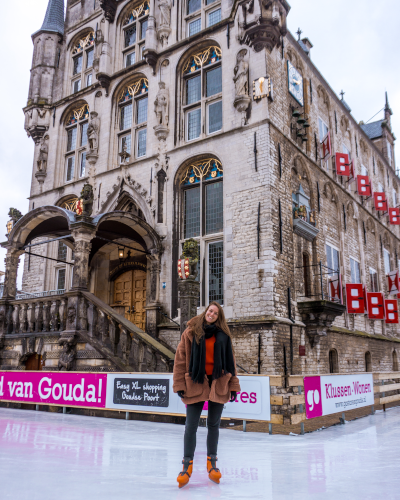 Opening times in 2021-2022:
December 15th 2021 - January 9th 2022
Daily: 09.00-23.00
Ticket price: €6
Ice skate rental: €2
Check their website for more information.
IJsvrij Festival in Rotterdam
The seasonal outdoor ice skating rink in Rotterdam is organized by IJsvrij Festival and is located at a different location every year. We visited the IJsvrij rink in the winter of 2018-2019. That year the rink was located in Het Park with a beautiful view of the Euromast. Last year, the Festival was canceled due to COVID-19 measures. This year, the rink is supposed to be located at the Deliplein. We bet this will be a beautiful location as the Deliplein offers a beautiful view of the skyline of Rotterdam. However, while writing this article, it's still unsure whether there will be an IJsvrij Festival in the winter of 2021-2022. If the Festival does take place, we will be there for sure!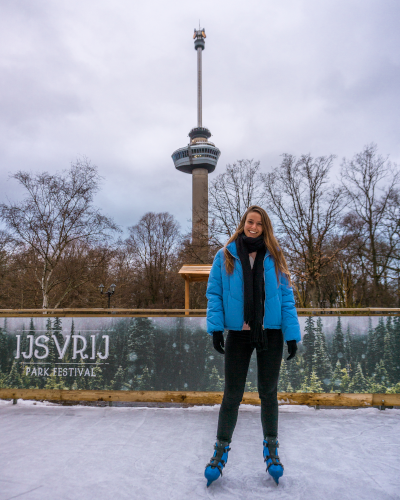 You can check their website for more recent information.
The prettiest indoor ice skating rink
Schaatsbaan Rotterdam
Lots of cities in the Netherlands have their own indoor ice skating rink. The prettiest by far however is the ice skating rink in Rotterdam. What makes the Schaatsbaan Rotterdam so special are the rainbow lights at the rink. You're literally skating through a rainbow of lights. Besides making ice skating here more fun, the lights also make for a perfect photo spot!
It's also possible to take ice skating lessons if you've never done it before, or want to improve your technique.
Opening times in 2021-2022:
November 27th 2021 - March 4th 2022
Sunday - Thursday: 08.00-22.00
Friday & Saturday: 08.00-23.00
On Fridays, Saturdays and Sundays from 16.00 the rainbow lights are on.
Ticket price: €7,50
Ice skate rental: €6
It's only possible to buy tickets online. Administration costs are €0,50.
The prettiest natural ice skating places
Around the end of January and the beginning of February is often when it gets really cold in the Netherlands. In order for enough natural ice to form, it's necessary to have temperatures below zero for at least a week. This doesn't happen every year, which makes it even more special when we are able to skate on natural ice. Natural ice forms quicker on smaller lakes and canals, which results in a few very picturesque natural ice skating places in the Netherlands.
Please note to always be careful when ice skating on natural ice. It can be very dangerous if you're not cautious. Never go on the ice alone. Make sure to follow local news and do some research in advance whether it's safe to go.
Kinderdijk
Kinderdijk is by far the prettiest place for ice skating. Imagine skating past the 19 windmills of Kinderdijk, sounds magical right? Well, it's just as magical as it sounds. It's been a while since we did this (winter of 2011-2012) but it's definitely a must when it's possible.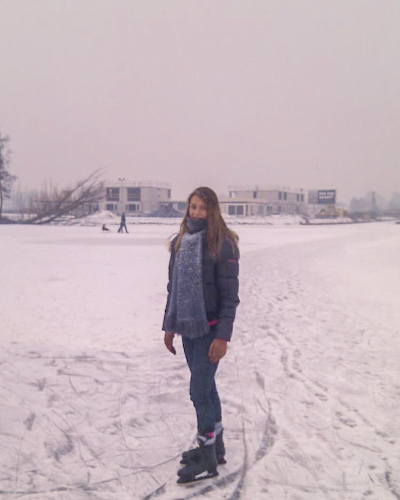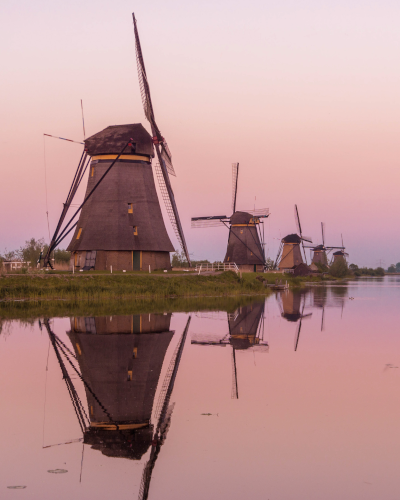 Canals of Amsterdam
How lovely would it be to skate on the canals of Amsterdam? Some canals in Amsterdam freeze fairly quickly and are the perfect place for natural ice skating. Ice skating on the canals in Amsterdam is often only possible for a very short amount of time before it gets dangerous. That's why we haven't done it because the timing was never right. If you have the opportunity to do it, we would absolutely recommend it. We hope to do it ourselves someday too.
Biesbosch in Dordrecht
The Biesbosch is a National Park in the Netherlands. A smaller lake in the Biesbosch called the Viersprong is perfect for ice skating. It's not the most picturesque place, but you're surrounded by nature which is always nice. It's a nice ice skating area if you're in the neighborhood but it's not worth a long drive.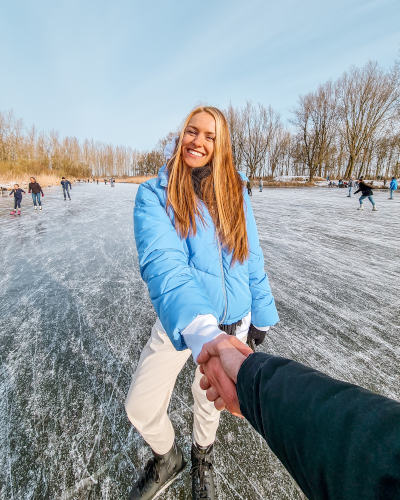 Other national parks that are (probably) beautiful for natural ice skating are De Alde Feanen (Friesland) and De Weerribben (next to Giethoorn). We've been to both of these places in summer, but not during ice skating season. We bet these places are beautiful for ice skating too!
COVID-19 Measures
We're still in the middle of a pandemic and even though a large majority of the Dutch population is vaccinated, there are still measures to help stop the spread of COVID-19. For ice skating, the measures might mean that you have to show proof of a negative test or vaccination (Coronatoegangsbewijs) or that indoor and outdoor ice skating rinks might have to close. Make sure to always check the websites and social media of the ice skating rinks so you won't be disappointed.
We hope this made you excited for this year's ice skating season. It for sure made us excited! Is ice skating in the Netherlands something you'd love to do?
Be sure to check out:
One Day in Gouda: All Things To Do